Supanniga Cruise is one of the best River cruises on the heart of Bangkok, Chao Phraya. Supanniga Cruise is a brand-new 40-seat Bangkok dinner cruise gives you a whole new perspective of Chao Phraya river and its surroundings. The best part is the sunset on Bangkok while having a cocktail or a glass of champagne. Cosy-dinner with some of the signature dishes of Supanniga will never let you forget this fascinating tour. The decoration of Supanniga Cruise is just excellent. The sunset dinner cruise both reflects the modern design & Thai heritage. You can separately get the evening tour & dinner tour.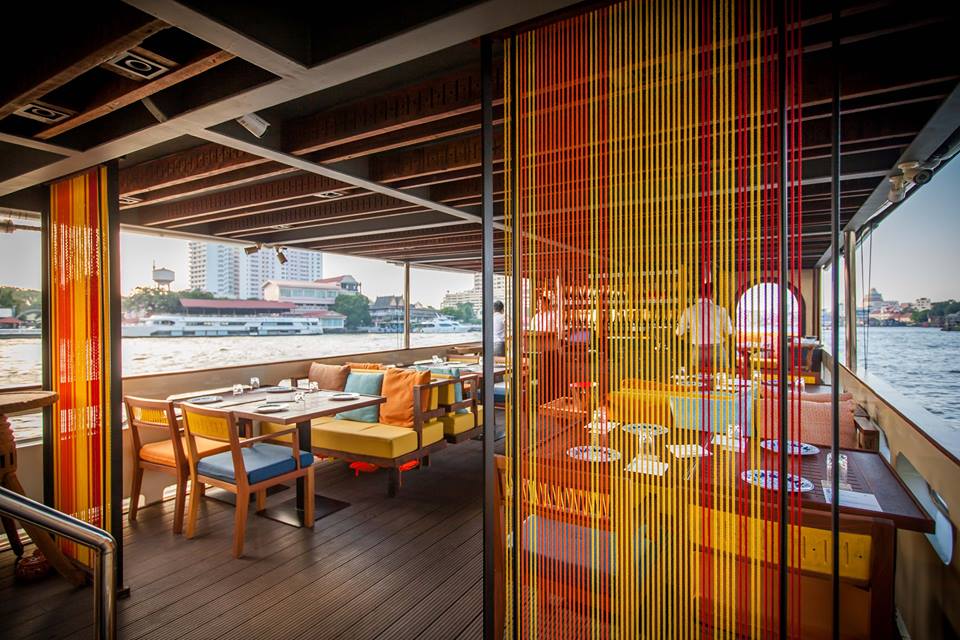 Dinner Champagne Taittinger Cruise:
Enjoy the sunset at Chaophraya river while having a glass of champagne as a pre-dinner activity. Followed by a six-course authentic Thai dinner with an amazing nighttime view of the Chao Phraya River. Dinner Cruise Bangkok provides the luxury of enjoying all the above! Dishes for dinner are carefully selected to satisfy a real Thai food lover. The Bangkok River cruise starts with an amuse-bouche: flavor-packed Thai mackerel bites served Miang-style and given a spicy kick with a fragrant shrimp paste from Koh Chang.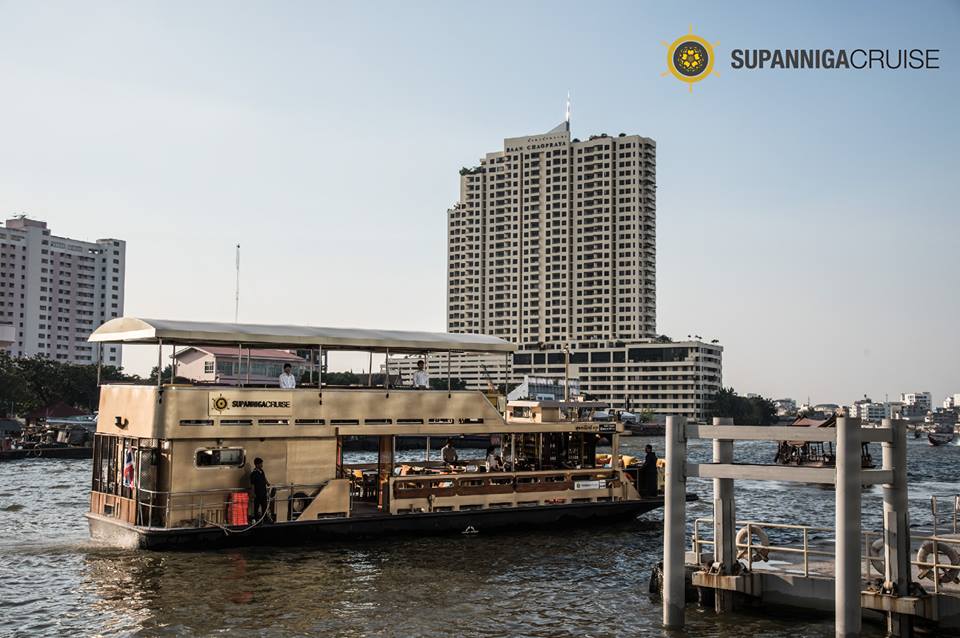 The main course will start with delicacies like a delicate Hor Mok (steamed fish custard) with big chunks of crabs. Wanlamun, one of the city's most renowned purveyors of traditional sweets, will be served next on the table. A delicious petit-fours will end that includes a piece of Da Ra Thong (modern version of Ja Mongkut) and sweet Thai egg rolls. Even the ingredients are collected from trusted sources to keep the premium & unique taste.
Evening Cocktail Cruise:
Enjoy a fascinating evening floating on Chao Phraya river while having a glass of signature cocktail. Chao Phraya river is the link between old & new Bangkok. Amazing architectural beauties near the river bank & glittering Bangkok will never let you forget the excitement of Evening Cocktail Cruise. You can enjoy the incredible beauty of moonlit night with a drink accompanied by snacks, on the Chao Phraya river.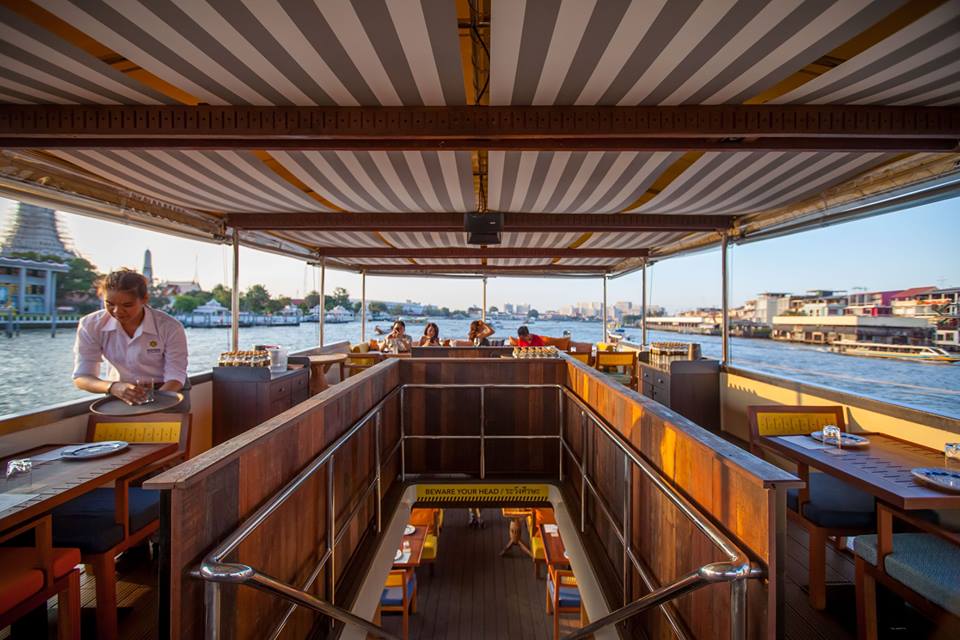 You can sit back & relax while the sun's last light falls on the river bed and create a gorgeous scenario. After the sunset, the night starts to wake up with the glittering light on Bangkok's skyline. While enjoying the grand view of Thailand's famous landmarks you can sip on the glass and the praise the sunset on Bangkok. The secret beauty of Bangkok will open in front of your eyes. You will see blinking & glittering Bangkok from the Chao Phraya river.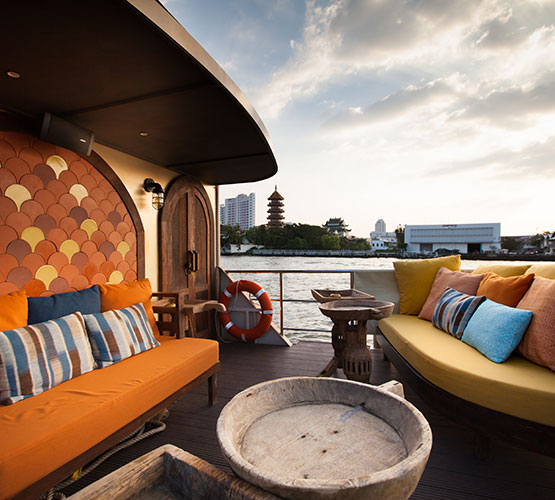 Evening Champagne Taittinger Cruise:
Evening Champagne Taittinger Cruise, is a weekend tour on Saturday and Sunday with pick up and drop off services. They will offer an evening afternoon tea. Jai Yen Yen is a Supanniga signature tea with traditional Supanniga afternoon tea savory and desserts set. The delightful sunset will be an amazing memory with a cup of te on the cruise. Again you can choose the cruise with a glass of champagne Taittinger with traditional Supanniga savories.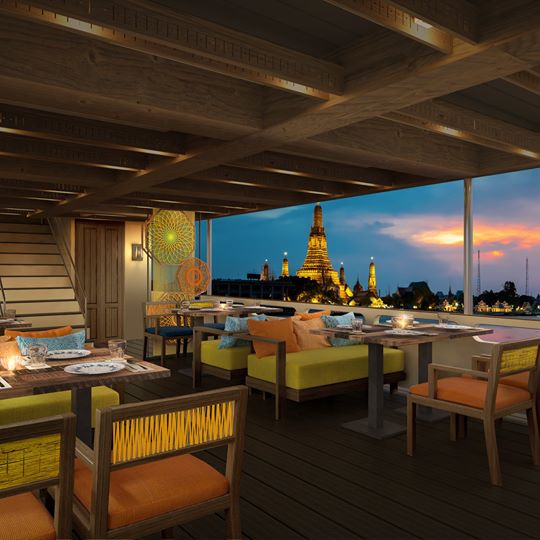 Amazing scenery with mouthwatering food and a glass of champagne is just a perfect combo. The set of the cruise you can't even describe in words. Take a trip to the Supanniga cruise and make your evening lavishing. If you are at Bangkok never miss one of these Best Bangkok river cruises. You can also try Chao Phraya, River star or Manohra cruises.